Unveiling Behr's Cracked Pepper: The Color of 2024 That Redefines Elegance
It's that time of the year again when the world of interior design eagerly awaits the Color of the Year predictions from color specialists. These predictions set the stage for the hues that will shape design trends in the upcoming months. In this exciting realm of color exploration, Behr, a renowned paint company, has stepped forward to reveal its forecast for 2024 – the captivating shade known as 'Cracked Pepper.'
Described as a 'versatile soft black,' Cracked Pepper stands poised to redefine the way we perceive dark colors in interior spaces. Beyond its mere visual appeal, this hue is a testament to the comforting effects that darker shades can create within our homes. It's a hue that effortlessly bridges the gap between understated elegance and bold sophistication.
Erika Woelfel, the Vice President of Color and Creative Services at Behr Paint Company, shares her insight, "As we venture into 2024, the pursuit of comfort and a sense of belonging will continue to shape design choices. Now, as life resumes its familiar rhythms, it's time to awaken our senses and let them thrive."
Behr Paint Company, hailing from our own backyard in California, discovered that a staggering three-quarters of Americans are open to the idea of incorporating dark hues into their spaces. While these shades are often celebrated for their ability to infuse warmth and coziness, they also possess the power to make a bold statement for those who dare to venture beyond convention.
"We acknowledge the growing trend towards embracing darker colors throughout living spaces," notes Jodi Allen, Global Chief Marketing Officer at Behr Paint Company. "The addition of a soft black like Cracked Pepper instills a sense of confidence and individuality that we aspire for all our customers to experience upon completing their projects."
Cracked Pepper is the meticulous creation of color experts who sought to respond to the increasing desire for bold color choices within the home environment. Designed to cater to both interior designers and homeowners alike, this hue serves as a catalyst for elevating spaces and fostering self-assuredness while showcasing individuality.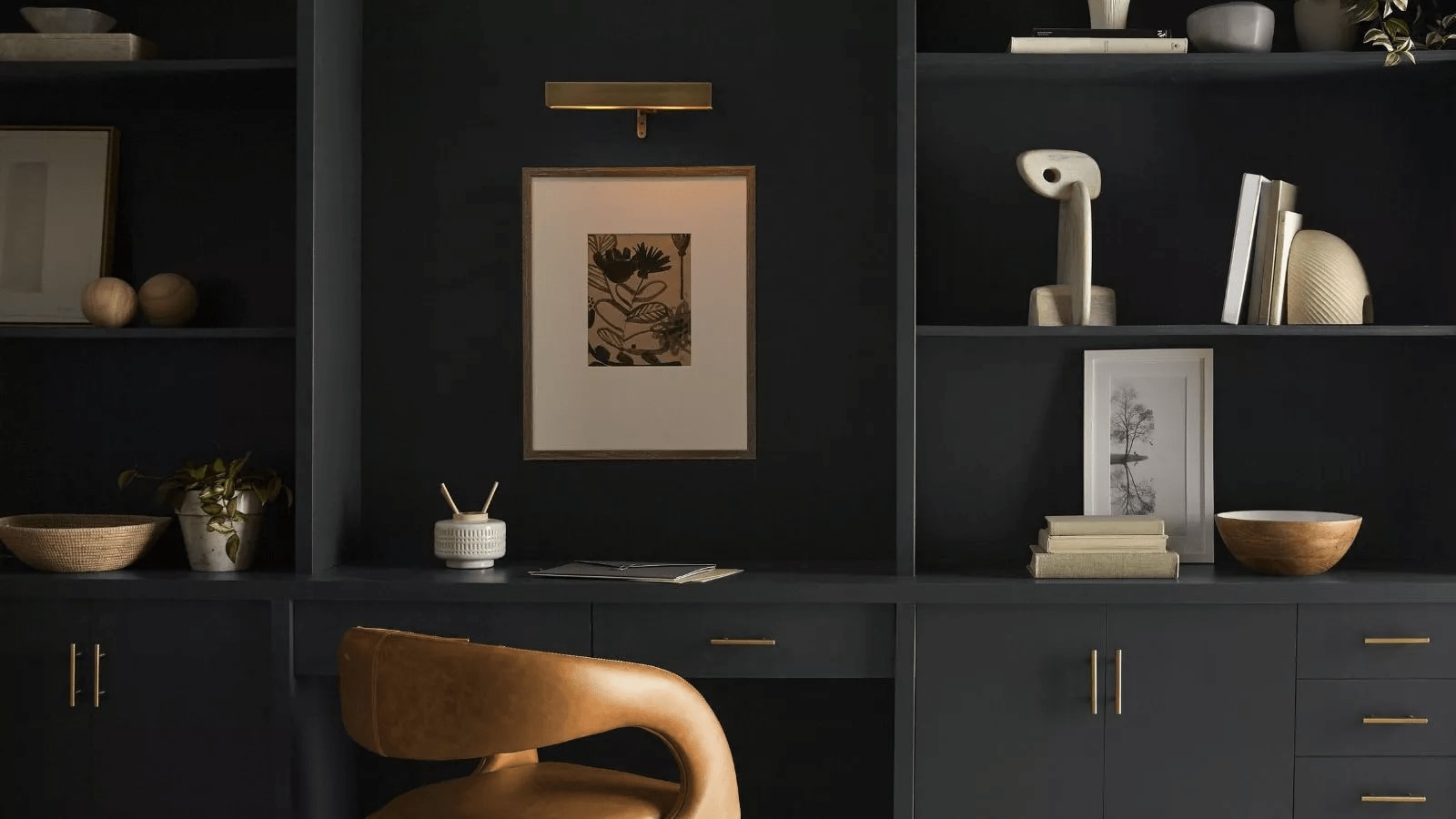 Incorporating Cracked Pepper Into Your Home
The versatility of Cracked Pepper is nothing short of remarkable, making it an ideal choice for a myriad of spaces and interior design styles. Erika Woelfel offers her insights, "From enhancing the ambiance of a dining room to adding softness to a living area, Cracked Pepper accentuates the innate character of any space."
For a dramatic impact, consider painting all walls of a room with Cracked Pepper. This choice creates an immersive experience, enveloping the space in a cocoon-like embrace. Such an approach is perfect for spaces like cozy living rooms, where warmth and intimacy are paramount. Alternatively, you can utilize this shade more selectively, using it as a feature wall in the bedroom, elegantly balanced with neutral tones. Cracked Pepper also excels as an accent color, infusing spaces with a touch of refined sophistication.
In either application, the inclusion of deep hues like Cracked Pepper has the power to elevate your home's aesthetic to new heights. As we step into 2024, it presents an opportunity to embrace a refined and elegant look that exudes the understated allure of quiet luxury. Behr's Cracked Pepper isn't just a color – it's a statement, a reflection of confidence, and a celebration of individual expression.
For more design inspiration, or assistance in prepping your home for the market, reach out to us to go over your options. Small details, big results.
(image credits: Behr Paint)