A Seller's Sweet Spot: The Luxury of Low Housing Inventory in Danville and East Bay
In the recently ever changing real estate market of East Bay, particularly in desirable areas like Danville, Blackhawk, Alamo, and Walnut Creek, the scarcity of available homes has created a unique and luxurious selling opportunity. Low housing inventory is shaping the dynamics between buyers and sellers, offering an advantage to those looking to sell their luxury properties. According to realtor.com, "On average, active inventory in June was 50.6% below pre pandemic 2017-209 levels." Keep reading to explore the advantages of low housing inventory for sellers in Danville and East Bay's luxury real estate market.
The Impact of Low Housing Inventory in Danville and East Bay:
The current low housing inventory in Danville and East Bay has set the stage for an exceptional selling experience for luxury property owners. Let's dive into the ways in which this scarcity can elevate your selling journey in these highly sought-after areas.
Unleashing High Demand and Competitive Offers in Danville's Luxury Real Estate:
With limited options available in the sought after neighborhoods of Danville, Alamo, and Walnut Creek, the demand for luxury homes is surging. This heightened competition often leads to multiple offers and bidding wars, much like we saw during the pandemic. This propels the sale price of your property well beyond your initial expectations. You have the chance to embrace the appeal of high demand, as discerning buyers eagerly compete for the opportunity to own in the suburbs.
Swift Sales and Reduced Listing Time:
In a market with low housing inventory, motivated buyers in Danville and East Bay are eager to secure their dream homes promptly. This translates to faster sales and reduced listing time for sellers of luxury properties. You won't have to wait long for potential buyers to recognize the appeal of your home, allowing you to swiftly move on to your next venture while reaping the rewards of a timely sale.
Negotiating with Confidence:
With limited inventory in Danville, Blackhawk, Alamo, and Walnut Creek, sellers hold a distinct advantage in negotiations. Buyers in the luxury segment are willing to offer attractive terms to secure the highly coveted properties available. This empowers you as a seller to negotiate from a position of strength, potentially securing a higher down payment, shorter inspection periods, or reduced repair requests. Embrace this luxury of negotiation power to create a win-win situation that suits your preferences and goals.
Indulging in Multiple Offers in East Bay's Luxury Real Estate Market:
The scarcity of luxury properties in Danville and East Bay paves the way for multiple offers from affluent buyers. As a seller, you'll have the luxury of evaluating a range of enticing offers, each presenting its own unique advantages. This exclusive opportunity allows you to select the offer that aligns perfectly with your vision, whether it includes attractive terms, a larger down payment, or an expedited closing timeline.
Houses priced appropriately continue to sell rapidly and attract numerous offers, in contrast to the preceding month.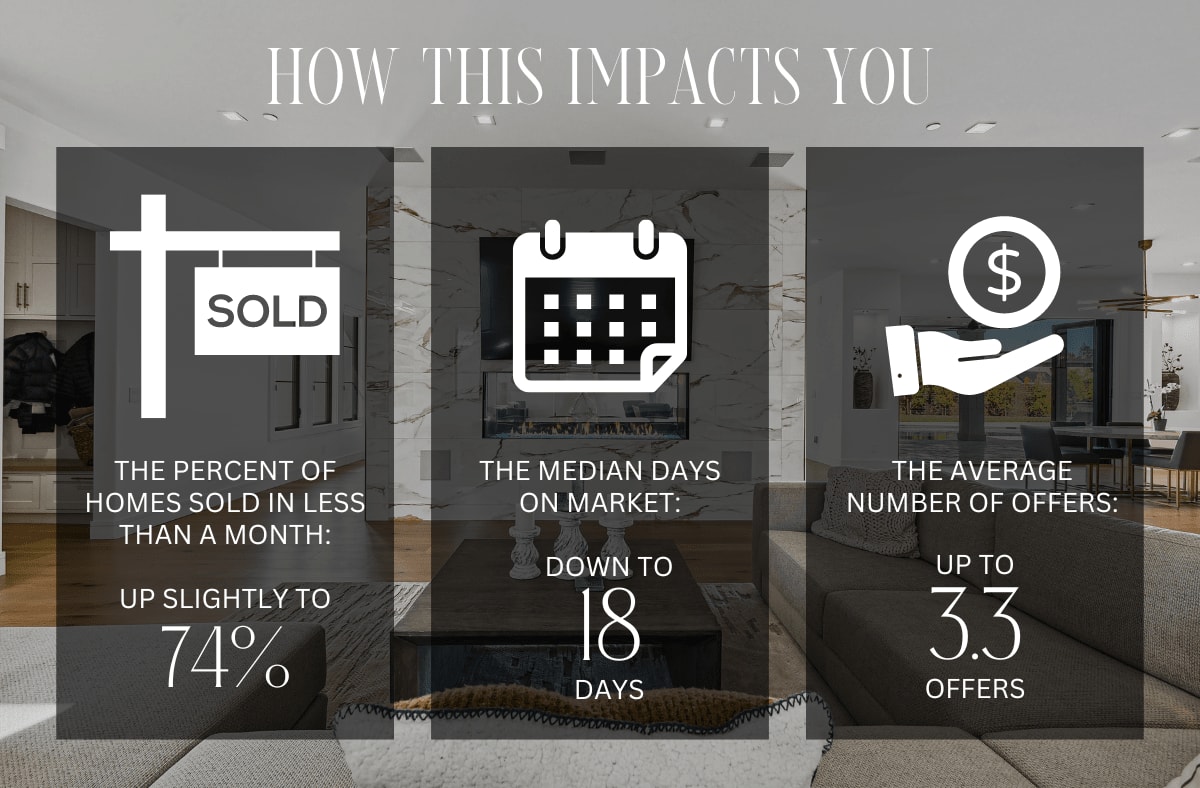 Source: realtor.com NAR
Low housing inventory has created a rare and inviting selling environment for homeowners. The surge in demand, competitive offers, swift sales, and favorable negotiation power provide sellers in East Bay's luxury real estate market with a unique advantage. Keep in mind that market conditions fluctuate over time, and the current low housing inventory is a temporary phenomenon. Therefore, seize this luxurious seller's sweet spot in Danville and East Bay, and position yourself for success in the vibrant luxury real estate market of this esteemed region.
Stay informed, collaborate with a trusted real estate professional specializing in luxury properties, and make the most of this remarkable opportunity. Small details, big results. It's what we do best! Contact us today for a free home valuation.